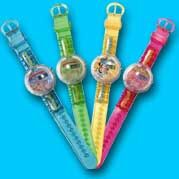 Sea-Monkey Aqua-Watch™
A Fun Time watch that carries Sea Monkeys! Where's the most outrageous place to see a Sea-Monkey? How about inside your watch!
Surprise your friends, have a blast and take the world's most fun pet with you wherever you go. Our Sea-Monkey Aqua Watch is a traveling home and attention-getting display for your favorite Sea-Monkeys! The face of this unique five-function digital watch is a rugged, water-filled bubble that can hold one or two adult Sea-Monkeys for up to 24 hours. (Then transfer the Sea-Monkeys back to their home tank.)
INCLUDES: pouch #1 Water Purifier, #2 Instant Live Eggs, Growth Food, instruction sheet, feeding spoon, and an Aqua Leash for transferring your pets from tank to watch.
Ages 6 & Up
Community content is available under
CC-BY-SA
unless otherwise noted.