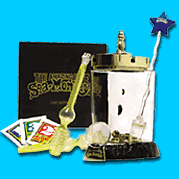 Executive Set
World's Perfect Office Pet This is an invitation to all desk bound people to jump off the money trail and nurture their kinder gentler side. Sea-Monkeys' all black and gold set is the perfect office decor, companion, and conversation piece. Just watching their graceful dance will lower any blood pressure. The set includes all that is necessary to hatch Sea-Monkey pets, feed and grow them. The set also includes a new accessory, Tiny Tank Tool, a high design squeegee with LED Light to add a bit of fun and pizzazz.
Features:
Sea-Monkeys are guaranteed to hatch & grow for two years Aquarium is equipped with a ventilated lid and a mound of gold on the bottom Clear Styrene tank with black and gold accent Tank with 4 built-in magnifiers Million BubbleTM Air Pump for aerating the water Tiny Tank ToolTM with red LED light and squeegee at the end to clean the tank Closed box Trilingual packaging & instructions: English, French and Spanish Benefits
Unique, one of a kind, product where crystals transform to living creatures in front of your eyes Demonstrates the power and beauty of nature Sea-Monkeys make great office pets Teaches business people: Patience Lowers Blood Pressure Encourages the kinder, gentler self Helps one feel big and powerful! Includes:
Water Purifier, Instant Live Eggs, Growth Food, Calibrated Feeding Spoon, Tank, Aero-VentTM Cover, Million-Bubble™ Air Pump, Aqua-Leash™, Tiny Tank Tool™, Magnifier and Instruction
Ages 6 & up
Community content is available under
CC-BY-SA
unless otherwise noted.