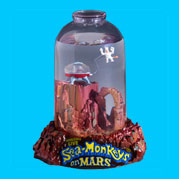 The Amazing Live Sea-Monkeys® On MARS™
A long time ago… in a galaxy not so far away… Sea-Monkeys go to Mars!
Sea-Monkeys have already traveled on several NASA missions and now these rugged space pioneers are ready to explore the Red Planet!
FEATURES: • Mysterious craters, towering arches and dormant volcanoes make this detailed landscape a fascinating Sea-Monkey playground! • Crystal clear Magnifying Lid allows a better view of this alien habitat
INCLUDES: • Colorful, dome-series Martian Landscape Tank • New Magnifying Aero-Vent Tank Cover • Water Purifier • Instant Live Eggs • Sea-Monkeys Growth Food • Super-Conditioning Plasma III Formula • Calibrated Growth Food Measuring Spoon • Aqua-Leash • Easy-to-follow instructions • 2 YEAR GROWTH GUARANTEE • Sea-Monkeys Life Insurance Policy
Ages 6 & up
Community content is available under
CC-BY-SA
unless otherwise noted.