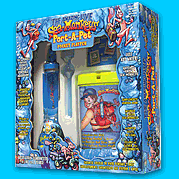 Port-A-Pet™

The perfect kit to hatch, Grow and Show your Sea-Monkey pets. Hatch the Sea-Monkeys in the tank, watch them as they double in size everyday, and for show and tell or better viewing transfer them, using the Aqua-Leash, to the Playpen. Watching the little Sea-Monkeys is absolutely hypnotic. Their graceful slow dance is even more mesmerizing under the glow of the red LED light of the PlayPen. Their translucent bodies take on a magical form under the glow and the configuration of the PlayPen makes it possible for xtreme close-up of these fascinating pets.
Includes: Water Purifier, Instant Live Eggs, Growth Food, Calibrated Feeding Spoon, Tank & Ventilated lid, Aqua Leash, Port-A-Pet PlayPen and Stand, and Instructions.
Community content is available under
CC-BY-SA
unless otherwise noted.