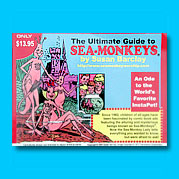 The Ultimate Guide to Sea-Monkeys
For over forty years, Sea-Monkeys have sparked the imagination and wonder of millions of people across the world. Since 1995, Susan Barclay has been sharing her knowledge of the "aquatic-simians" with the ever-growing audience of visitors to her website. Now she shares her extensive understanding of the world's favorite Instant Pets in this book.
What's inside:
Interviews with the creator of Sea-monkeys, filmmakers and musicians Questions and answer section Sea-Monkeys on holiday Sea-Monkeys on the Internet Sea-Monkey poetry Assorted Sea-Monkey products Sea-Monkey Role Playing Game by Zak Arnston Images from vintage and current Sea-Monkey packaging, video games, advertising and more And much more!
Community content is available under
CC-BY-SA
unless otherwise noted.